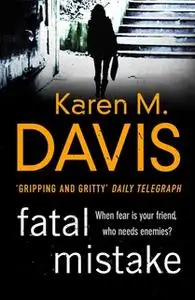 «Fatal Mistake» by Karen M. Davis
English | ISBN: 9781925368338 | EPUB | 0.5 MB
Thrilling new crime from Karen M. Davis
Detective Lexie Rogers is tough, smart and at the top of her game. She's seen it all, from bikies, blood and betrayal to drugs, deviants and deception … and the violent knife attack that almost killed her as a young cop on the beat.
Lexie's sent on the job of a lifetime – to go deep undercover, as beautiful Lara Wild, a drug distributor, to expose a huge dealing ring among Sydney's most treacherous criminals. What she discovers is that being undercover is the safest place to be, especially when you're a cop with target on your head, but one false move means she'll die. And creeping from the shadows is the darkness of her past, something she can never outrun.
Lexie knows she can't trust anyone – but the trouble is, she's not even sure if she can trust herself.
Praise for Karen Davis
'Gripping and gritty' Daily Telegraph
'Twists and turns galore … Davis's real-life cop experience leaps off the page.' – Katherine Howell, author of Silent Fear
'Crisp, fast-paced crime.' – The West Australian