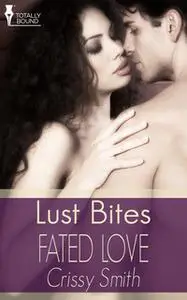 «Fated Love» by Crissy Smith
English | ISBN: 9780857153586 | EPUB | 0.1 MB
Sometimes Fate brings two people together-but its just up to them if they let their hearts rule or give into their fears. Marcus finally makes it back home after the worst case of his career. He's looking forward to some quiet down time until he senses someone trespassing on his territory. The woman who has learned about his special gift and doesn't seem afraid of his wolf is baffling and intoxicating at the same time. Marcus is just unsure whether she means harm or way too much good. Crystal knew the moment she stepped into the swamp and on Marcuss territory she was where she belonged. Coming from a long line of special women herself, she has no problems with Marcuss differences. If she could just convince Marcus she is his mate, everything will just be perfect. When these two come together, the heat and passion fills the room and nearly combusts. Almost perfect… except for the vision of Marcus being killed. Can they work together to figure out who is after Marcus? Or will their Fated Love burn them? Reader Advisory: This book is a sequel to Savage Love although it can be read as a stand alone title.