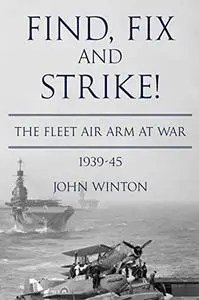 Find, Fix and Strike!: The Fleet Air Arm at War, 1939-45 (World War Two at Sea) by John Winton
English | July 10, 2022 | ISBN: N/A | ASIN: B09XV6249M | 215 pages | EPUB | 0.99 Mb
A full examination of the Royal Navy's Fleet Air Arm from the beginning of World War Two until final operations off Japan in August, 1945.
Perfect for lovers of naval and aviation history.
At the beginning of the Second World War the Royal Navy had only seven aircraft carriers and a couple of hundred obsolete aircraft. Six years later it had more than fifty aircraft carriers of various types and thousands of frontline aircraft.
John Winton provides a thorough record of Fleet Air Arm's activities during the war, from the initial setbacks of the Norwegian campaign in the spring of 1940 to the long campaign against Tirpitz in 1944 and finishing with the triumphant operations of the British Pacific Fleet as part of the US 3rd Fleet off the mainland of Japan in the summer of 1945.
Find, Fix and Strike! The Fleet Air Arm at War, 1939-45 charts how naval air power came to hold an increasingly important position in the Royal Navy through the course of the war. Uncovering the operations of British aircraft carriers and shore bases, catapult fighters from merchant ships, support given to the British army in North Africa, escort carrier and catapult-launched floatplane activities, as well as numerous instances of individual heroism has allowed Winton to demonstrate the true importance of Royal Navy's Fleet Air Arm.
'interesting, clear and accurate account … deserves attention by all naval history enthusiasts.' Warship International