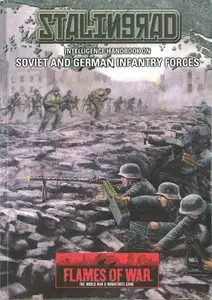 Flames of War - Stalingrad (INTELLIGENCE HANDBOOK ON - SOVIET AND GERMAN INFANTRY FORCES) By Phil Yates
Publisher:Battlefront Miniatures Ltd 2006 | 108 Pages | ISBN: 0958253609 | PDF | 70 MB
Complete organisations and equipment for Soviet Rifle, Guards Rifle, and Militia forces. Complete organisations and equipment for German Grenadier, Fast, Pioneer, and Luftwaffe Field forces. History of the battle for Stalingrad. Inspiring colour photographs. Two tactics guides. Comprehensive painting and terrain guides. Exploits of Divizioniy Komissar В I Vasilevsky, Oberfeldwebel Hans Wolf Schmidt, Nobel Sniper V G Zaytsev, and Major Bruno Koenig. New rules for Street Fighting. INTew mission-Not One Step Back.
NO PASSWORD


!!!No Mirrors below, please! Follow Rules!