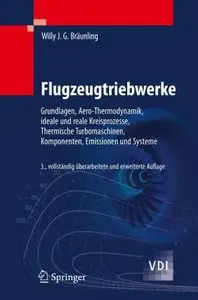 Willy J. G. Bräunling, "Flugzeugtriebwerke: Grundlagen, Aero-Thermodynamik, ideale und reale Kreisprozesse, Thermische Turbomaschinen, Komponenten, Emissionen und Systeme"
Springer 2009 | ISBN: 3540763686 | 1647 pages | PDF | 90,8 MB
Das Buch ist eine zusammengefasste und zum Teil erweiterte Ausarbeitung der Vorlesungen "Flugzeugtriebwerke und Gasturbinenantriebe für Studenten des Flugzeugbaus". Ein allgemein verständlicher Überblick über die verschiedenen Typen von Triebwerken und die Funktionsweise ihrer Hauptkomponenten ermöglicht einen vereinfachten Einstieg in die Theorie der Flugzeugtriebwerke und schafft so eine breite Grundlage, mit der eine sehr große Anzahl von grundlegenden Begriffen und von technisch/physikalischen Zusammenhängen anschaulich definiert werden können. In den anschließenden Kapiteln wird die jeweils erforderliche Theorie hinzugefügt und diese durch mehr als 30 ausführliche Beispielrechnungen veranschaulicht.
Thanks to the original uploader!