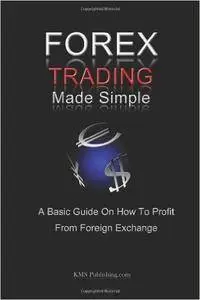 Forex Trading Made Simple: A Basic Guide On How To Profit From Foreign Exchange
English | EPUB | ISBN-10: N/A | ASIN: B004WSVD5M | 2010 | 240 pages | 9 MB
With so many different opinions about what is important in the Forex market, it is no wonder why so many people are confused. Taking the time to create your own investing strategy can help clear up some questions and allow you to focus but in reality, it is only going to be so effective. The best news that you can use is the reality that everyone makes mistakes. The great news is that you can learn from the mistakes of others and protect your money.
Making money in Forex is not only possible but also quite enjoyable once you know what you are doing. The small amount of effort that is required is quite worth the effort and you are sure to be really pleased once you start making a profit. Getting things to fall into place is never easy, and because of this, you should expect your plan to be easily adjustable. You are likely to make a lot of changes before you settle upon a good strategy that works for your needs, which will simply help you to modify your needs again when necessary and also keep everything smoothly flowing.
It is the purpose of this book to make Forex Trading simple to understand and do so that making a profit should be worthwhile for you. Learn the following: the basic concepts behind forex trading operations, choosing a forex broker, an outline of a basic forex strategy, the tools of the forex trade, and trading tips that will guarantee your success in the foreign exchange market.
Welcome to the best eLearning video (English, German, French, Spanish language) and many more:
LINK
Do not forget to check my blog! Updated regularly! Add in bookmarks my blog :)
PM me if Links not working!
No mirrors pls!