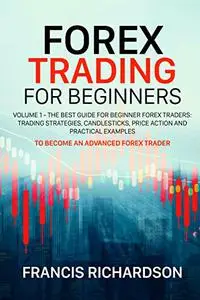 Forex Trading for Beginners - The best guide for Beginner Forex Traders: Trading Strategies, Candlesticks, Price Action and Practical Examples to become an Advanced Forex Trader by Francis Richardson
English | 2022 | ISBN: N/A | ASIN: B09RSL5DPF | EPUB | 2.24 Mb
Are you looking for a fast and easy way to learn how to make Forex Trading your source of income?
Then keep reading…
Forex trading entails buying and selling of currency pair within the same day. It enables you grow your income through making profit from currency pair price changes that occur during the period you choose to trade. To successfully engage in forex trading, it is important to understand how it works.
Apart from knowledge associated with basic trading, forex traders must also keep track of the latest forex market news and analysis that can affect or impact their currency pairs. They must be aware of breaking news and the economic outlook held by experts.
Forex trading requires a trader to put in at least four to five hours every day. It will be best not to take it up if you are unable to dedicate at least this much time. It takes time and effort to spot trends and capitalise on them. It will be important to move fast and make quick moves to make the most of the investment opportunities.
When you are just starting as a forex trader, it will be best to focus on just one or two currency pairs and track their movement. It is easier to track limited pairs instead of focusing on too many. Smaller amounts invested in pairs will make it easier to track them and assess how your investment is doing.
It is always best to remain calm and collected, especially when the market is moving unpredictably. This is a characteristic that all forex traders must possess to make the most of their trades. Your decisions should be based on logic and not impulsiveness.
You must always have a plan of action ready. Successful traders will be able to move fast between plans and maintain decorum while trading. It will be best to stick with a winning formula compared to chasing profits. Most traders follow a set philosophy that states it is important to plan your trades instead of allowing emotions to guide you.
This book explains it all and provides the reader with the steps he needs to know in order to become a successful forex trader, the book does not promise the reader to turn into a rich man in few days but it guarantees to put the reader on the correct road become one in a very short term.
This book includes:
• What Is Forex Trading?
• Difference Between Forex Trading Strategies (Scalping, Day Trading, Swing Trading and Position Trading)
• Tips and Tricks
• How to Use Candlesticks
• Manage Risk
• How to Save Money and Time
• What the Trend Is and How It Can Be Exploited
• The Time Horizon for Your Goals
• How to do fundamental and technical analysis
• How can your Quantum Brain work for you?
• Hard Work, Focus and Determination to Achieve your Goals
• Investing Dynamics
• Many graphs and examples
And much more!
Feel Free to contact me for book requests, informations or feedbacks.
Without You And Your Support We Can't Continue
Thanks For Buying Premium From My Links For Support