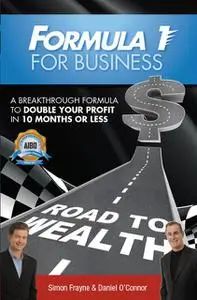 «Formula 1 for Business» by Simon Frayne
English | EPUB | 3.5 MB
TRANSFORM YOUR AVERAGE BUSINESS INTO A FORMULA1 CLASS RACING BUSINESSInternational authors and leading business consultants Simon Frayne and Daniel O'Connor share the science, wisdom and closely guarded high performance tips and strategies in this book. If you have ever dreamed of a better business to provide a bigger life, Formula 1 For Business will show you how to achieve the profitability, value and ultimately business success you desire. Discover how to get the most out of your business against a fast changing landscape!You'll learn:-Essential profit drivers every business owner needs to know-How to attract and maximise the performance of key staff-The secret of measurement and monitoring for incremental improvement-The 15 critical strategies that will dramatically increase your business value-Why it is better not to work in your business and how to manage your way out-The secrets to the 6 different buyer profiles and why some pay much, much more-How to massively expand your marketing channels to increase sales in the changing landscape«This is the most insightful, impacting & important book on building profit and value in your business you will ever read. It is a formula for success and is full of ideas, wisdom and strategies that can change your business forever.»— Darren J. Stephens, International Business Consultant and Bestselling AuthorTake Action & SuperCharge Your Business & Life Today….