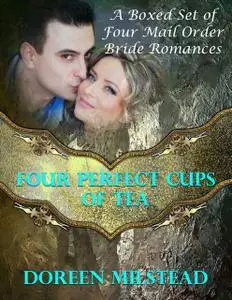 «Four Perfect Cups of Tea: A Boxed Set of Four Mail Order Bride Romances» by Doreen Milstead
English | EPUB | 0.3 MB
Snow Angel From Canada – A woman from England decides to head for the Canadian Yukon to become a mail order bride to a man living in a tiny town.
Mail Order Bride: From England To California On The Wings Of An Eagle — A woman who finds that her mother's overfeeding causes her weight gain, literally flees to a less than appetizing offer from a farmer in Fresno, who turns out to be rail thin and as stubborn as a mule about certain things.
From Germany To The Valley Of Silver & Her Rancher – Two men in one small town, a bad boy and a rancher, send away for a mail order bride; the only problem is — one woman arrives on the train a few weeks later.
Pretty Lady With Earrings, By Way Of The Dominican Republic & England – A strong-minded black woman moves to Richmond, Virginia, to be with her new mail order husband, but faces many lingering aftereffects and racism, from the recently ended Civil War.