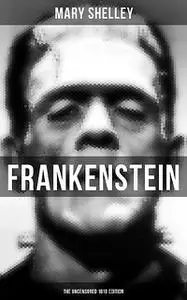 «Frankenstein, or, The Modern Prometheus» by Mary Shelley
English | EPUB | 0.2 MB
Frankenstein; or, The Modern Prometheus is a novel written by Mary Shelley about a creature produced by an unorthodox scientific experiment. Shelley started writing the story when she was nineteen, and the novel was published when she was twenty-one. The first edition was published anonymously in London in 1818. Shelley's name appears on the second edition, published in France in 1823. The original 1818 'Uncensored' Edition of Frankenstein as first published anonymously in 1818. This original version is much more true to the spirit of the author's original intentions than the heavily revised 1831 edition, edited by Shelley, in part, because of pressure to make the story more conservative. Many scholars prefer the 1818 text to the more common 1831 edition.
Mary Wollstonecraft Shelley (1797–1851) was an English novelist, short story writer, dramatist, essayist, biographer, and travel writer, best known for her Gothic novel Frankenstein: or, The Modern Prometheus.