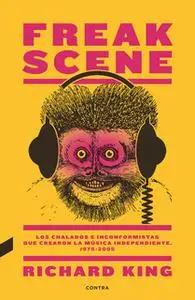 «Freak Scene: Los chalados e inconformistas que crearon la música independiente, 1975-2005» by Richard King
Español | ISBN: 9788494937514 | EPUB | 1.7 MB
Tras un proceso de documentación de dos años y entrevistas con los principales actores de la escena, Richard King ha compuesto uno de los ensayos de la literatura musical más vibrantes de los últimos tiempos. Freak Scene documenta la fascinante historia de los sellos independientes de la música pop y rock británica, desde 1975 a 2005.
Tras el advenimiento del punk y su consigna del "do it yourself" como reacción a la práctica habitual en la industria musical, donde el acceso a los medios de producción estaba reservado a la élite, una generación de jóvenes británicos se imbuyó de este espíritu iconoclasta y radical, y sin apenas conocimientos de economía o de marketing, y sin ningún sentido empresarial, se embarcó en la creación de algunos de los sellos que marcarían el rumbo creativo de la música pop. Fundados en dormitorios, garajes o buhardillas, surgieron proyectos como Factory, Rough Trade, Mute, Postcard, Beggars Banquet, 4AD, Creation, Blast First, Warp o Domino, que reinventaron el panorama musical. Nacía así la música "indie" o "alternativa", con bandas como Orange Juice, New Order, Depeche Mode, The Smiths, Cocteau Twins, Happy Mondays, Sonic Youth, Primal Scream, My Bloody Valentine, Teenage Fanclub, The White Stripes, Franz Ferdinand o Arctic Monkeys, entre otras muchas.
Freak Scene cuenta la historia de estos sellos independientes y sus exaltados promotores, que, partiendo del amateurismo más apasionado, generaron, sin buscarlo, una de las experiencias más fértiles y exitosas de la industria cultural de la segunda mitad del siglo XX Es también el relato de su fracaso comercial, pues casi todas estas discográficas acabaron muriendo de éxito, o sucumbiendo a la atracción del abismo del rock and roll y sus excesos.