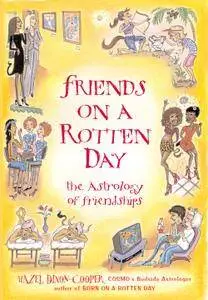 Friends on a Rotten Day: The Astrology of Friendships by Hazel Dixon-Cooper
English | April 5th, 2012 | ASIN: B008HTFP9W, ISBN: 1578634121 | 160 Pages | EPUB | 0.75 MB
It's about time for Friends on a Rotten Day, the first astrology book to focus entirely on friendships. After all, lovers come and go, but our girlfriends sustain, nurture, and protect us from cradle to grave. Friends on a Rotten Day explores the supportive, uproarious, and sometimes complex, relationships between girlfriends through an in-depth astrological analysis of each Sun sign.
Dixon-Cooper shows readers what makes their friend tick on a soul level, revealing each friend's inner character, friendship style, love style (including what to do or not do if a pal picks a loser), and party style. She offers suggestions on the best gifts to buy your friend, how to calm her down, cheer her up, and return the unconditional support and love that she gives you.
Readers will discover why their Gemini buddy changes her mind so often, why the Virgo gal pal sweats the small stuff, why a Scorpio girlfriend sometimes seems distant, and why the Leo chum needs frequent headpats. They'll also learn why a Pisces pal should never be forced to make a snap decision, why a Capricorn girlfriend might seem too serious for her own good, the truth about a Taurus friend's hidden anxieties, the competitive side of an Aries chum, what causes Cancer pal's emotional train wrecks, why the Aquarius buddy has a rebellious side, and why the Sagittarius girlfriend has occasional angry outbursts.
"Dixon-Cooper reveals what every astrologer knows but none has dared say. (She) takes us on a seriously humorous ride through the land of truth and consequences. I highly recommend it." –Suzanne White.