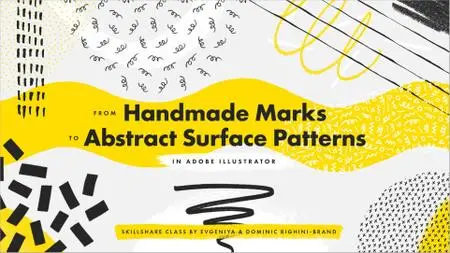 From Abstract Handmade Marks on Paper to Seamless Surface Patterns in Illustrator
.MP4, AVC, 840 kbps, 1280x720 | English, AAC, 128 kbps, 2 Ch | 2h 32m | 1.66 GB
Instructor: Evgeniya & Dominic Righini-Brand
If digital tools, however convenient, are not quite enough for you and you crave having experimental & authentic handmade elements in your digital surface patterns or designs, join me in the class for my special tips, tricks & techniques for creating & turning handmade graphic marks into seamless vector and raster-based patterns in Adobe Illustrator with ease and confidence!
Using handmade marks in surface patterns is a great way to add a unique character and tangibility to your digital work! Creating pattern elements on paper with the tools and materials which you have at hand is an exciting and liberating experimental process; and you don't have to be an experienced mark-maker or have great drawing skills to create original marks, which you can then digitise and use in surface designs, printed products, design projects or sell as digital assets!
This class is designed for everyone who is interested in creating patterns from handmade marks, regardless of their level. Whether you are a beginner who wants to get into designing seamless patterns, a pattern designer who wants to boost their creativity, create a number of fresh patterns for their portfolio and learn a few new techniques along the way, a graphic designer or illustrator eager to add a new skill to their workflow or an artist experienced in creating marks and looking to learn an effective way to digitise physical artwork and turn it into surface patterns, this class is for you!
In this class I will share:
tips for choosing tools & materials to create marks with desired aesthetics;
technical tips & creative ideas for creating abstract pattern elements;
how to digitise your marks by scanning or photographing them;
how to prepare your marks to be used in patterns, both as vector graphics & as raster elements, if you are into more realistic and textured marks;
three versatile approaches to creating seamless patterns;
a number of quick and easy ways to create multiple pattern iterations;
how to colour & recolour both vector and raster pattern elements;
how to layer your patterns or elements within a pattern;
how to take advantage of Illustrator tools when applying patterns to create designs;
how to manage pattern swatches in Illustrator and extract pattern swatches for use outside Illustrator;
how to export your final designs.