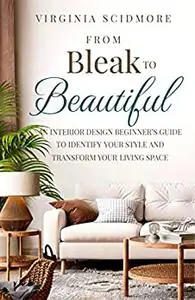 From Bleak to Beautiful: An Interior Design Beginner's Guide to Identify Your Style and Transform Your Living Space by Virginia Scidmore
English | 2022 | ISBN: N/A | ASIN: B0B8FTTN41 | 175 pages | PDF | 2 Mb
Turn your dream home into reality by learning tricks of the trade to bring your creativity to life and design a beautiful home anyone would be jealous of!
Are you tired of looking at the same four boring walls and wondering if this really is… it?
Are you embarrassed about inviting people over because you feel that others would be uncomfortable or unimpressed by your space?
Have you postponed redecorating in the past because of fears about budgeting constraints or just not getting it right?
Do you want to learn how you can create a homey but exciting space that you will never want to leave?
Then keep reading…
In 2020, 70% of Americans were planning to redecorate their homes as a result of feeling uncomfortable or unhappy with their living space during lockdown.
Your home should be your sanctuary, your happy place! But unfortunately for many, it just presents a whole host of problems and issues that never seem to get sorted.
Well, this is your sign to finally pick up that paintbrush and get the confidence to take a leap into creating a tailored space to suit your needs, and impress others too!
You know that feeling when you check into a nice hotel and you can't help but just sit and stare around the room for a while? It's always the small details that pop and help you to feel relaxed and calm, even though you are in a new place.
Now, what if you could replicate those feelings in your own home, but make it 10 times better?
Get started today by learning the skills of interior design that will help you make the most of your personal style and create a fantastic, functional space that you'll love.
In this guide, you will discover:
Everything you need to know to get your perfect place to become a reality — regardless of previous experience!
Interactive exercises to help you figure out what furniture you need to achieve your desired look
5 ways you can use interior design to influence your mood — come home happy every day and enjoy an uplifting, peaceful home
How to consciously purchase items, allowing you to save money and keep things that actually last!
10 popular design styles you can use for inspiration — don't just assume things need to be kept simple, find your passion with bold colors and striking features
How to pull in different textures and personal touches to really make it feel like your home
#1 secret to bringing together your design ideas that anyone should use when redecorating!
And much more.
Feel Free to contact me for book requests, informations or feedbacks.
Without You And Your Support We Can't Continue
Thanks For Buying Premium From My Links For Support