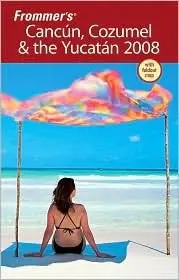 Frommer's Cancun, Cozumel & the Yucatan 2008 (Frommer's Complete)
Frommers | 2007-09-18 | ISBN: 0470145730 | 320 pages | PDF | 39 MB
Frommer's. The best trips start here.
Experience a place the way the locals do. Enjoy the best it has to offer.
* Insider tips on the best beach getaways, hottest nightlife, and smartest routes for exploring Maya ruins.
*Outspoken opinions on what's worth your time and what's not.
*Exact prices, so you can plan the perfect trip whatever your budget.
*Off-the-beaten-path experiences and undiscovered gems, plus new takes on top attractions.
Find great deals and book your trip at Frommers.com
Summary: Bad Choice
Rating: 1
I'm headed to Cancun soon and was looking for a comprehensive guide to Cancun. While the title of this guide starts with Cancun, the guide covers all of the Yucatan…. the section on Cancun is only 15 or so pages. I was disappointed with the limited infomation on Cancun… a handful of restaurant recommendations…. brief, not very informative descriptions of the outdoor activities… it's more of a general overview instead of the in depth guide I wanted…
Summary: Informative
Rating: 4
I would recommend this for going to the Cozumel-Cancun area. Has some nice tips, maps and other tid-bits of info.
Summary: Disappointing
Rating: 3
The pull-out map was very helpful but on the whole–I should have purchased the Foder's book. The structure of this text is hard to follow and not very user friendly.
Summary: boring
Rating: 3
I've traveled to about 8 different foreign countries, and always used Lonely Planet. I thought I'd give this a try. It was dull and boring. I'm sticking with Lonely Planet.
Summary: Very Helpful Guide
Rating: 4
This was one of two guides I purchased for a trip to Cancun and it was by far the most helpful. There was good coverage of hotels, restaurants, night clubs, beaches and watersports, and shopping. The guide also offers good general information on traveling to Mexico in general and Cancun particularly. I should add that the entire Yucatan peninsula has similar coverage in this guide, not just Cancun.
As for their recommendations, we found their restaurant choices to be very solid (they recommended Thai Lounge and that was the highlight of our trip). On the other hand, they overrated my hotel (Westin) by one star as it fell far short of Westin caliber. Other attractions such as Xel-Ha, Xcaret, and the ruins of Tulum all seemed to be graded and discussed fairly.
Overall, this guide does a good job of covering the Yucatan peninsula. The standard Frommer's format is here with "Best of" lists as well as suggested itineraries. In addition to information on each specific region of the Yucatan, there is also some excellent general information helpful to planning a trip to this part of Mexico. I would recommend buying this book. If you plan to do a lot of sightseeing, then also pick up either the Cancun & The Yucatan (Eyewitness Top 10 Travel Guides) or the Insight Compact Guide Cancun & the Yucatan. Both have pictures to help you see which sights you will most want to visit and which ones you don't mind skipping.