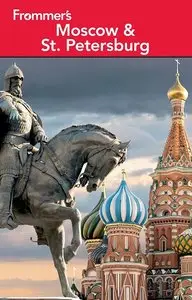 Frommer's Moscow and St. Petersburg by Angela Charlton
Frommers; 4 edition | 2012 | ISBN: 1118167155 | English | 352 pages | PDF | 50.70 MB
* Completely updated every year.
* Insider advice from a local expert. Our author, a former Moscow-based AP correspondent, hits all the highlights, from Red Squaqre to the Hermitage. She's checked out both cities' best hotels and restaurants in person, and offers authoritative, candid reviews that will help you find the choices that suit your tastes and budget.
* Where to find the best dining from fresh fish to street food to opulent 19th Century cafes; the best accommodations from hostel to hotels fit for royalty; the best shops for linens, lacquer boxes, vodka, and nesting dolls; the best oddball attractions including Lenin's Mausoleum.
* Opinionated reviews. You'll get the author's favorite experiences: viewing Red Square at night, steaming stress away at a banya, taking the trans-Siberian railroad, sipping Baltika beer at Patriarch's Ponds, and enjoying a night out at the Mariinsky Theater.
* Exact prices listed for every establishment and activity–no other guides offer such detailed, candid reviews of hotels and restaurants. We include the very best, but also emphasize moderately priced choices for real people.
* User-friendly features including star ratings and special icons to point readers to great finds, excellent values, insider tips, best bets for kids, special moments, and overrated experiences.
Download links: