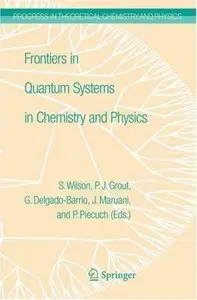 Frontiers in Quantum Systems in Chemistry and Physics
Springer; 1 edition | October 24, 2008 | ISBN-10: 1402087063 | 598 pages | PDF | 9.2 Mb
The basic theory of matter on the nanoscale is quantum mechanics and the application of quantum mechanics to the study of the many-body problem in molecules and materials is a rapidly developing field of research. Frontiers in Quantum Systems defines the leading edge; hence it describes the new theoretical developments available to a wider audience and presents theories which provide, for example, new insights into the structure of increasing complex molecular systems or molecules in a variety of environments. New computational techniques and practices are accessed, exploiting the wide range of equipment available to the researcher from "leadership" class supercomputers to distributed workstations and the internet. Just as important as the development of new theories and computer algorithms are the new areas of application, the ever expanding list of application areas in which studies at the quantum level are providing valuable insights. Frontiers in Quantum Systems will allow new areas of application to be exposed to a wider audience.