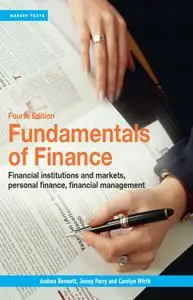 Fundamentals of Finance: Financial institutions and markets, personal finance, financial management by Carolyn Wirth, Jenny Parry, Andrea Bennett
English | August 5th, 2021 | ISBN: 0994132522 | 320 pages | True EPUB | 13.40 MB
This fourth revised and updated edition gives a practical overview of contemporary finance from a New Zealand perspective. It helps students understand: how the financial system and the institutions within it operate; how and why financial decisions are made; the tools, techniques and concepts used in finance, and how they are applied to the major sectors of finance; and how individuals plan their short- and long-term financial activities; how business organisations manage and finance their short- and long-term financial activities.
Broad in scope, Fundamentals of Finance explains the important financial decisions made by businesses and individuals, and how these decisions are influenced by the financial environment in which we live and work. It provides an introduction to finance that assists students to make their own financial decisions. Helpful features include: examples, self-test questions (with solutions!), learning objectives, a glossary of terms and useful formulae.
Enjoy
My Blog.
No any convert or low quality!