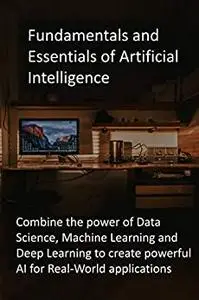 Fundamentals and Essentials of Artificial Intelligence: Combine the power of Data Science, Machine Learning and Deep Learning to create powerful AI for Real-World applications by Zamsprin Publications
English | 2020 | ISBN: N/A | ASIN: B08NC6B7YW | 168 pages | EPUB | 0.63 Mb
Welcome to our publications,
IT engineers need a combination of creativity and technical expertise. They must be avid learners who stay on top of emerging trends in the field to create hardware that can accommodate the latest programs and applications. In our books you will find all the necessary skills included with in depth knowledge on the subject added. Our distinguished authors focus on elaborating the subject from the basics to expert level such that it reaches to all types of readers.
Happy Learning.
Feel Free to contact me for book requests, informations or feedbacks.
Without You And Your Support We Can't Continue
Thanks For Buying Premium From My Links For Support