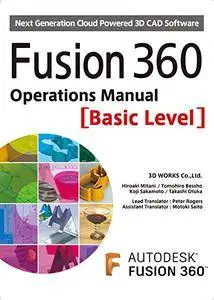 Fusion 360 Operations Manual [Basic level]: Next Generation Cloud Powered 3D CAD Software by Hiroaki Mitani
English | 5 Feb. 2017 | ASIN: B01N5XDC74 | 283 Pages | PDF (conv) | 86.89 MB
This book is an operational guide for Fusion360, the new 3D CAD/CAM software that is capturing the attention of makers all over the world. This series is made up 3 levels; Basic, Advanced and Super Advanced.
For those with no experience using Fusion360, who will be starting from scratch, we recommend starting the series at the Basic level. By completing all 3 levels, you will begin by learn how to do basic modelling, and by the end you will be competent in a number of functions from applied modelling and part assembly through to 3D model analysis/simulation.You will also get written walkthroughs and click-through videos to help you complete all of the assignments as well.
* This product is created using a fixed layout, and is most suited to large display devices and tablets. Also, content highlighting and search features, as well as the dictionary and quote features are not compatible with this content.
[System Requirements]
・A device with a large screen, or a tablet.
・A wifi network to download the content (for Kindle devices)
Fusion 360 Operations Guide Basic Level
Fusion 360 Operations Guide Advanced Level
Fusion 360 Operations Guide Super Advanced Level