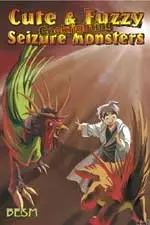 Emily K. Dresner-Thornber, "Cute And Fuzzy Seizure Monsters (BESM/Big Eyes Small Mouth)"
Publisher: Guardians of Order | 2000 | ISBN 1894525175 | PDF | 112 pages | 3.6 MB
FOREWORD
Love it or hate it, we would be remiss if we didn't publish this book.
The pet monster anime genre has exploded across Japan, North America, and
the entire world. Anime has never been more "trendy" than it is today, thanks to
a little yellow rat and his pre-adolescent trainer.
So why is it so popular?
Good question. I believe the answer lies in the near perfect construction of the
genre's ringleader, Pokémon. The phenomenon has a very strong base in video
games — a steadily growing market thanks to state-of-the-game-art technology
that makes the game experience more dynamic and exciting every day. Adding to
this base is Pokémon's broad appeal to both young boys and girls. Consider the
stereotypes: for boys, there are battles and cool monsters and mean villains; for
girls, there are strong women and oh-so-cute fuzzy animals and friendly
relationships. Finally, when you add the addictive elements of collectability
(anyone remember Cabbage Patch Kids?), the creators of Pokémon had a can't-miss
hit on their hands. Strong marketing and promotion by Nintendo and its partners
snared the North American market.
Then the plethora of others came along, each adding their own take on the
subject. The genre had taken root.
I struggled over the decision to publish this book. We wanted to serve the fan
base of the popular genre, but didn't want to look like we were "selling out." That
just isn't our style. When Emily approached David (the anime line developer) and
told him that she'd like to do a serious treatment of the genre but in a satirical tone,
I gave the green light for the project.
Admittedly, I still have reservations, but if we can please the fans and have
some fun at the same time, then the risk is worth it.
We hope you agree.