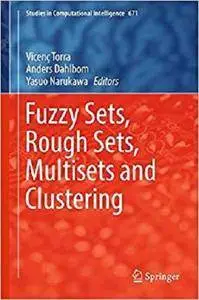 Fuzzy Sets, Rough Sets, Multisets and Clustering (Studies in Computational Intelligence) by Vicenç Torra, Anders Dahlbom, Yasuo Narukawa
English | January 13, 2017 | ISBN: 3319475568 | 347 pages | AZW3 | 4.74 MB
This book is dedicated to Prof. Sadaaki Miyamoto and presents cutting-edge papers in some of the areas in which he contributed. Bringing together contributions by leading researchers in the field, it concretely addresses clustering, multisets, rough sets and fuzzy sets, as well as their applications in areas such as decision-making.
The book is divided in four parts, the first of which focuses on clustering and classification. The second part puts the spotlight on multisets, bags, fuzzy bags and other fuzzy extensions, while the third deals with rough sets. Rounding out the coverage, the last part explores fuzzy sets and decision-making.