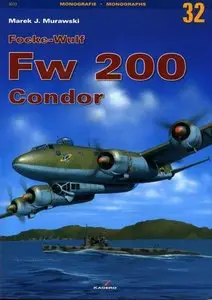 Marek J. Murawski - Focke-Wulf Fw 200 Condor
Kagero Oficyna Wydawnicza | 2000 | ISBN: 8360445532 | Polish | 104 pages | PDF | 16.18 MB
Monografie No.32
Pierwotnym przeznaczeniem tej maszyny były długodystansowe loty pasażerskie (w roku 1937 na całym świecie głośnym echem odbiły się jego loty non stop do Nowego Jorku). Z chwilą wybuchu II wojny światowej przystosowany został do pełnienia roli morskiego samolotu patrolowego dalekiego zasięgu. Fw 200C, który używany był do tego celu powstał na bazie zamówionej przez Japonię w 1939 roku wersji tej maszyny przeznaczonej do dalekodystansowych morskich zadań rozpoznawczo-bombowych. W ciągu całej II wojny światowej wyprodukowano 276 egzemplarzy tej maszyny. Wadą samolotu były słabe osiągi (napęd stanowiły cztery silniki BMW o mocy 1200 KM każdy) oraz słaba konstrukcja kadłuba (samolot często ulegał awariom w trakcie lądowania). Załogę stanowiło 7 lub 8 osób. Samolot mógł przenosić 2100 kg bomb. Późniejsze wersje w powiększonych gondolach silników przenosiły pociski rakietowe Hs 293. Uzbrojeniem defensywnym Fw 200C były: działko kal. 20 mm, wkm kal. 13 lub 15 mm oraz do pięciu km kal. 7,92 mm. "Złote lata" Fw 200C to okres 1942 - 1943, kiedy to maszyny te zadały duże straty flocie alianckiej w czasie wojny na Atlantyku. Po roku 1943 większość maszyn pełniła swoja służbę jako samolot transportowy.