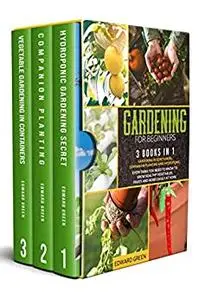 Gardening for beginners: 3 books in 1: Gardening in containers, companion planting and hydroponic. Everything you need to know to grow healthy vegetables, fruits and herbs easily at home by Edward Green
English | September 12, 2020 | ISBN: N/A | ASIN: B08HW4F3F2 | 251 pages | EPUB | 2.40 Mb
Would you like to grow your own vegetables, fruits and herbs and looking for a comprehensive guide to help you with that?If you do, then keep reading!With ''Gardening for beginners'' you will be guided step by step through:- ''Vegetable gardening in containers'': Learn how to grow all types of plants in small spaces. Achieve a beautiful and thriving garden in any space – even where you thought you will never be able to grow one.- ''Companion planting'' – Learn all the secrets to the number one chemical-free method to grow organic vegetables. Find out how by planting the right plants close to each other you can deter pests and increase yield effortlessly. -''Hydroponic gardening secret'' – Grow up to 56% more of your favourite food all year long easily and without soil. Whether you have a green thumb or you never planted a seed in your life, this book will give you all the tools to do it right, sharing with you all the must to know tips and secrets for the greatest result.
Feel Free to contact me for book requests, informations or feedbacks.
Without You And Your Support We Can't Continue
Thanks For Buying Premium From My Links For Support