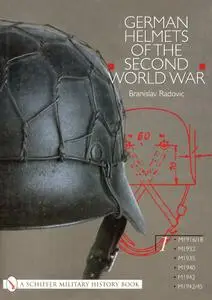 Branislav Radovic - German Helmets of the Second World War Volume 1
Schiffer Publishing | 2002 | ISBN: 0764314475 | English | 321 pages | PDF | 104.48 MB
Schiffer Military History
This two volume set is a fully illustrated, detailed look at the famous German "stahlhelm" of World War II. Full color photographs - including multiple-view, interiors, and up-close detail - show Army, Luftwaffe, Kriegsmarine, Waffen-SS, Paratroop, and many others. Both volumes have been specifically produced to give the advanced collector the opportunity to expand his or her knowledge, and to compare paint and insignia against their own collections. For the novice or would-be collector, these books are an invaluable reference.
German Helmets of the Second World War: Volume One: M1916/18 - M1932 - M1935 - M1940 - M1942 - M1942/45. An incredible collection superbly photographed - every variant of German helmet imaginable.