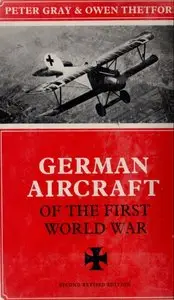 German Aircraft of the First World War By Owen Thetford, Peter Gray
Publisher:The Bodley Head Ltd 1970 | 635 Pages | ISBN: 0370001036 | PDF | 87 MB
This book, the first to be published in English presenting a complete his­torical record of every type of military aircraft produced in Germany between 1914 and 1918, would not have been possible without the co­operation and assistance of many enthusiasts whose help is gratefully acknowledged. The greater part of the main text has been vetted by that painstaking historian Herr Egon Krucgcr who also provided so much of the additional material in this revised edition. For any mistakes that may remain the authors accept full responsibility. Much of the data in the appendices has been compiled from the files of Egon Krucgcr and Peter M. Grosz, both of whom contributed many photographs and offered every co­operation.
NO PASSWORD


!!!No Mirrors below, please! Follow Rules!