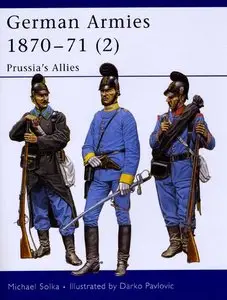 German Armies, 1870-71: v. 2: Prussia's Allies (Men-at-arms 422) By Michael Solka
Publisher: Os Publishing 2005 | 48 Pages | ISBN: 1841767557 | PDF | 17 MB
The first modern European War, the Franco-Prussian War of 1870-71 saw the use of bolt action rifles, machine guns and railway transport, and the introduction of professional general staff. It led to the foundation of Germany as a unified, militaristic nation, and was central to France's military development, influencing her disastrous tactics in 1914. The German armies involved were led by that of Prussia, yet non-Prussian forces were numerically extremely important to the Northern Federation and its southern allies. This book details the large independent armies of Bavaria and Saxony as well as the smaller state contingents that nevertheless represented an important element of Germany's military strength. Michael Solka is an author and historian. He works mainly for the TXT media agency, and is also involved with the 'Word' programme produced by the Bavarian Broadcasting Corporation. He has written fifteen books on American Indians and American military history for a German publishing company, and this is his second book for Osprey. He lives in Upper Bavaria, Germany. Darko Pavlovic was born in 1959 and currently lives and works in Zagreb, Croatia. A trained architect, he now works as a full-time illustrator and writer, specialising in militaria. Darko has illustrated a number of books for Osprey including Men-at-Arms 282: 'Axis Forces in Yugoslavia 1941-45' and Elite 60: 'U-Boat Crews 1914-45'. He has also written and illustrated titles for the Men-at-Arms series on the Austrian army of the 19th century.
NO PASSWORD


!!!No Mirrors below, please! Follow Rules!