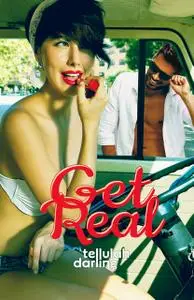 «Get Real (Get Real #1)» by Tellulah Darling
English | EPUB | 1.2 MB
Get Real is a New Adult romantic comedy with sass, sex, and swoon, set in the world of "Cadabras"–humans with magical powers.Francesca Bellafiore is a good Jewish girl, living up to family expectations that she use her magic to heal others. Underneath, she's a wannabe badass with her heart set on becoming a detective and solving magical crimes. But nice girls don't disappoint their moms.Party boy Rafael Muñoz does everything possible to publicly disappoint his high profile father. Privately, it's a different story. His carefully crafted bad boy reputation masks the fact he's a master illusionist, forced into solo covert ops. The role is wearing thin and Rafael longs to be part of a team.When Francesca meets Rafael at a friend's party, she's taken by the sexy stranger. Until he speaks. Beautiful plumage doesn't compensate for spectacular ego. Rafael finds Francesca's sweetness a turn-on. For about five minutes. Judgmental golden girls are more trouble than they're worth. Then a terrified girl with reality warping powers, locked and loaded on their destruction, whisks the pair to Manhattan. Francesca and Rafael are caught in a web of magic, minions, secrets, and enough sexual tension to power NYC. Desperate to prove themselves, their only chance to save the city and survive is to team up, trust each other–and maybe even fall in love.Provided they don't kill each other first.