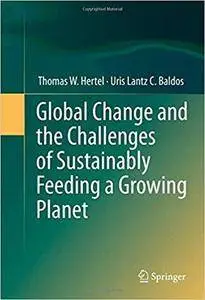 Global Change and the Challenges of Sustainably Feeding a Growing Planet by Thomas W. Hertel, Uris Lantz C. Baldos
English | 2016 | ISBN: 3319226614 | 184 Pages | PDF | 6.0 MB
This book explores the fundamental determinants of long term changes in agricultural land use and the associated implications for environmental and food security. The book is designed around the idea that each chapter focuses on one driver, or underlying determinant, of land use change at global scale. It starts with key factors which have been influential in the past, such as growth population, incomes and agricultural productivity, thereafter turning to new drivers such as biofuels, climate change and demand for environmental services. Specialized topics include food security outcomes, projections of future agricultural prices, greenhouse gas emissions, the role of globalization and market integration. The book draws heavily on the emerging body of literature on these topics, summarizes key findings and organizes these within a unifying economic framework.