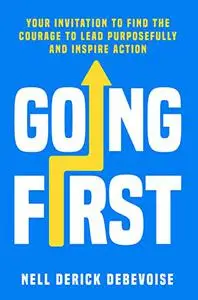 Going First: Your Invitation to Find the Courage to Lead Purposefully and Inspire Action by Nell Derick Debevoise
English | 2022 | ISBN: N/A | ASIN: B094NWG9R7 | 462 pages | EPUB | 1.89 Mb
Going First: Your Invitation to Find the Courage to Lead Purposefully and Inspire Action is a call to action to CEOs, as well as other executives, investors, and aspiring leaders, who want to have more impact, build their businesses, and leave a legacy. The book provides frameworks, tools, and inspiring examples of ways to connect our work to a larger sense of purpose. It dispels the myths and misconceptions about this approach to work as a force for good, using academic research and practical experience.
Going First explains the Spheres of Impact, Spectrum of Impact, and the Me-We-World framework to readers as a way to leverage the power of purpose to enhance their performance in work and life. The book provides a simple, step-by-step way to map the impact you have - and want to have more of - in your work and life. Going through the Spheres and Spectrum of Impact provides an Impact Dashboard, which is a critical step toward leveraging purpose to improve your wellbeing, performance, and life satisfaction.
The outcomes of leading and living purposefully fall into three dimensions - Me, We, and World. Specifically, in the Me dimension, leading purposefully has been shown to improve mental and physical health outcomes, including anxiety, depression, dementia, and heart disease. For teams and companies - the We dimension of the framework - purposeful leadership leads to higher levels of trust, from which engagement, productivity, and loyalty all follow. Finally, purposeful leaders connect their work to its impact on the world, improving Environmental, Social, and Governance (ESG) factors, that have become so important to investors, as well as consumers and employees.
Author Nell Derick Debevoise's insights are a result of her studies at Harvard, Cambridge, Columbia and London Business Schools, as well as work with a diverse range of leaders on four continents in all sectors and a variety of industries and organization sizes and stages. The book is enriched by over 150 interviews with the CEOs and CHROs of companies ranging from Accenture to Goodwill, Benevity to Seventh Generation, and other corporates, startups, B Corps, and not-for-profits on the cutting edge of the movement toward a more inclusive, antiracist, and sustainable form of capitalism.
Feel Free to contact me for book requests, informations or feedbacks.
Without You And Your Support We Can't Continue
Thanks For Buying Premium From My Links For Support