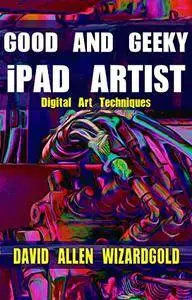 Good and Geeky iPad Artist: Digital Art Techniques by David Allen Wizardgold
English | 6 Feb. 2017 | ASIN: B01MUYG7OL | 120 Pages | PDF (conv) | 7.89 MB
The iPad is perfect for artists to create digital art. Good and Geeky artists love the apps on iOS for drawing, painting and the creation of art photography. Once you have seen how easy it is to move a work in progress in between applications to add just the right effect or to use a specific tool, you'll not want to go back to analogue art. Applications like iColorama which is stuffed to the gills with amazing capabilities will delight you.
The iPad is an artists tool box. You don't have to stick with one application on the iPad. If you need drawing, painting or other specialist tools or effects from another app, just share to the other app. There is nothing to limit your creativity as an artist when using the iPad as your digital canvas or sketch book.