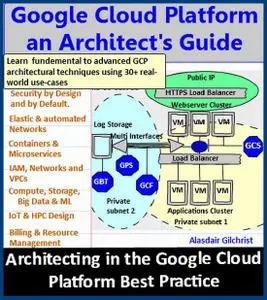 Google Cloud Platform an Architect's Guide
English | 2021 | ISBN: 9781393875536 | 913 pages | PDF, EPUB | 4.96 MB
New 2021 Edition with 12 new hands-on labs, Learn fundamental to advanced GCP architectural techniques using 30 + real-world use cases.
The 'Google Cloud Platform an Architect's Guide' is a comprehensive handbook that covers everything that you need to know from GCP fundamentals to advanced cloud architecture topics. The book covers what you need to understand to pass the Google certification exams but goes far further and deeper as it explores real-world use cases and business scenarios.
But you don't need to be an IT expert as the book is designed to cater for both beginners and those experienced in other cloud or on other on-premises networks. To that end, the book is split into distinct parts that caters for all levels of expertise.
Part -1 is aimed at the novice someone new to a cloud architecture environment that needs to become familiar with the fundamentals of cloud architecture and industry best practices so the more experienced reader may wish to skip this section.
Part-2 takes a far deeper dive into GCP theory and practice as well as providing real-world use cases and practical tips that are beneficial for architects at all levels.
Part-3 delves much deeper into GCP practical theory on elasticity, scalability and resilience. It also covers Kubernetes in greater detail and touches on High-Performance Computing and IoT designs. The book closes with a final part dealing with cloud-native design practices and as such it covers design, monitoring, notification and remediation techniques to ensure best practice in cloud-native application design, deployment, stabilisation and commissioning.