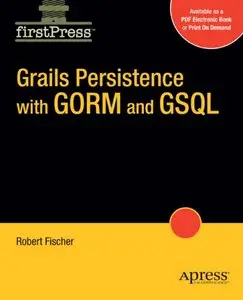 Robert Fischer, "Grails Persistence with GORM and GSQL"
Apress | 2009 | ISBN: 1430219262 | 125 pages | PDF | 1,1 MB
Unique to the popular Grails web framework is its architecture. While other frameworks are built from the ground up, Grails leverages existing and proven technologies that already have advanced functionality built in. One of the key technologies in this architecture is Hibernate, on top of which Grails builds its GORM (Grails Object Relational Mapping) model layer. This provides Grails a persistence solution.
Published with the developer in mind, firstPress technical briefs explore emerging technologies that have the potential to be critical for tomorrow's industry. Apress keeps developers one step ahead by presenting key information as early as possible in a PDF of 150 pages or less. Explore the future through Apress with Grails Persistence with GORM and GSQL
This firstPress book covers Grails persistence with GORM, from defining your first model to the nature of transactions and advanced Hibernate querying. Other APIs and tools such as GSQL (Groovy SQL) are covered as well, as needed, to empower your Grails persistence efforts.
What you'll learn
•Extend the Grails web framework into a broader, semi–enterprise framework by including and integrating Hibernate–based Java persistence, known as GORM.
•Use mappings to customize default behaviors and work with legacy schemas.
•Use constraints to define your object once and have those constraints enforced both in code and at the database level.
•Use advanced features of GORM and Hibernate Query Language (HQL) to simplify database querying and report generation.
•Debug and tune trips for GORM and Hibernate.
•Fill in the gaps with GSQL.
Who is this book for
This title is for those who have committed to dedicating some time to mastering Grails and are looking to move beyond the basics, and are especially interested in Grails and Groovy persistence for some limited transaction handling and/or accessing databases.
Summary: Great overview of GORM
Rating: 5
This is a great introduction and overview of GORM for beginner and intermediate Grails users. It is very thorough, and covers all code examples with working test cases. There are some excellent real work cases that I've run into as a Grails develop as well, including linking domain classes (has-many-through relationships). This is a much better tutorial for GORM that you will find anywhere on the web.
Summary: Great, if you are looking for gorm deep info
Rating: 5
I had many books about Grails, but all the info about gorm is superficial.
If yopu really want to know the potential of gorm this is teh book for you.
You will learn in a single place all the possiblities of this system and also you will learn new ways to test your domain objects.
Highly recommended … if you are looking for gorm info.
Summary: An excellent reference with on target examples
Rating: 5
I picked up Grails Persistence with Gorm and GSQL at Softpro books and I immediately found several examples that were right on point for some of the issues I'd had some questions about when developing Grails. This book is short and concise, with a very well constructed table of contents so you can find just the example you need.
Each of the examples is in the form of a unit test and are annotated to explain and illustrate the behavior clearly. It also has some great tables for quick reference. I even purchased the pdf for regular reference.
I bought the book and went through the whole thing. I put it to work right away and started tweaking an an existing app per some of the example code. I even lifted some of the unit tests and put them in my integration tests just so I have a live example to review. They demonstrate the behavior very well and there are lots of them.
I have read through Getting started with Grails, Grails in Action and both editions of Definitive Guide to Grails and I still reference those. They are for those developers who are new to Grails. This book is for experienced Grails developers. It's focused, well organized and is a well written reference with tons of great unit test examples.
Not all books on AvaxHome appear on the homepage.
In order not to miss many of them follow
ebooks section
(see top of each page on AH)
and visit
my blog
too :)
NO MIRRORS according to the rules