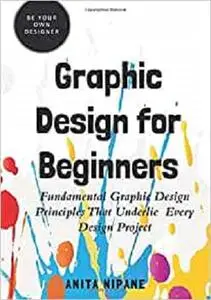 Graphic Design for Beginners: Fundamental Graphic Design Principles that Underlie Every Design Project (Be Your Own Designer) by Anita Nipane
English | July 28, 2020 | ISBN: N/A | ASIN: B08DSTHL1S | 125 pages | EPUB | 6.00 Mb
Do you need to design things, but have no background in graphic design theory?
Would you like to learn the main graphic design principles and create visuals that effectively communicate your message?
If you lack a degree in art but need to make social media posts and ads, business cards, flyers, brochures, or any other visuals, buy this book and read it.
It won't substitute studying in a design school but will give you a vocabulary of the basic design and composition principles, color theory, and typography. This book will serve as your starting point if you want to create eye-catching visuals and never again make amateur mistakes.
Read the book "Graphic Design for Beginners" and you will learn how to:
use the main principles of professionally-looking designs
create a composition and use visual weight, balance, and flow to emphasize your message
recognize the difference between the optical and geographic center and why the first one is important
use the science behind the good looking color schemes
combine typefaces and use contrast in a sophisticated way
use more than 20 FREE resources and tools for creating your designs
In short, after reading this book you will know how to apply the same graphic design principles every professional designer knows and uses.
Recommended especially for non-designers this book will change the way you look at graphic designs around you. Get it now!
Feel Free to contact me for book requests, informations or feedbacks.
Without You And Your Support We Can't Continue
Thanks For Buying Premium From My Links For Support