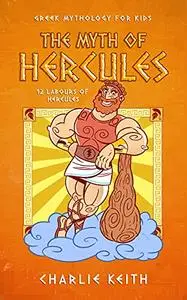 Greek Mythology for kids : The myth of Hercules: 12 labours of hercules by Charlie Keith
English | June 6, 2021 | ISBN: N/A | ASIN: B096SP316T | 42 pages | EPUB | 1.36 Mb
"You shall slay the Nemean Lion" he told Hercules.
"Where's that?" Hercules said.
"Not in Nemea" mocked him the king.
"Very funny" growled the hero and left thinking how to find that creature.
Many tales have been told of the gods living at the top of Mount Olympus and of the brave heroes that traveled across ancient Greece fighting the forces of evil. Names such as Zeus, Achilles, Athena, and Jason are not strange to us. But, what about Hercules? Has his story been recounted the right way or has it been created on a confusing blend of Greek mythology?
Here, in this book, the true story of the son of Zeusandhow he completed the twelve legendary labours is finally told adequately. A wondrous journey begins where Herculesseeks to redeem himself from an awful crime that Hera, the cunning queen of the gods has forced him to do. The king of Tiryns orders him to perform the most difficult of tasks. Terrifying monsters, hard battles, humorous incidents, and divine courage form this exhilarating story that is sure to inspire all who will read it.