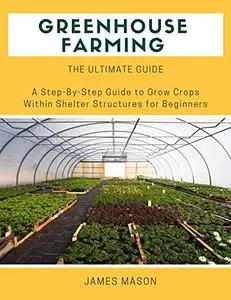 Greenhouse Farming the Ultimate Guide: A Step-By-Step Guide to Grow Crops within Shelter Structures for Beginners by James Mason
English | 2021 | ISBN: N/A | ASIN: B08WL5V6N7 | 103 pages | EPUB | 0.18 Mb
Do you want to know about Greenhouse Farming and the History of Greenhouse Farming?
Do you want to know about the Elements of Greenhouse Farming?
Do you want to know about Productions of Greenhouse Farming especially Vegetable Production?
Do you want to know about theTypes and Classification of Greenhouse Farming, and Which Type is the Best for You?
Do you want to know about the Advantages and Disadvantages of Greenhouse Farming?
If you want to know about the answers to the above questions, you should read the book "Greenhouse Farming." It is a complete guide about Greenhouse Farming and its benefits on an individual's Business and money. A short description of crops production by green house is explained below:
A precarious sector is the production of crops. Greenhouse farming's most important benefit is that it allows for successful management and eliminates risks posed by adverse weather conditions. Greenhouse farming optimizes growing conditions more precisely and protects the crops from severe weather events. Some forms of greenhouse farming (managed heating greenhouses) prolong the growing season or even encourage farmers to cultivate crops beyond the regular season. Further equipped conservatories offer the possibility to take full charge of producing crops, contributing to faster growth and higher yields. Greenhouse Farming has advantages and disadvantages, but its benefits outweigh its disadvantages.
So, read the complete book and get the benefit.
Feel Free to contact me for book requests, informations or feedbacks.
Without You And Your Support We Can't Continue
Thanks For Buying Premium From My Links For Support