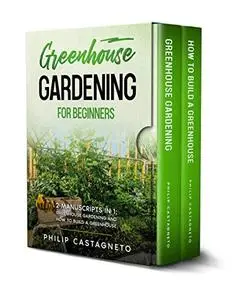 Greenhouse Gardening for Beginners: 2 Manuscripts in 1- Greenhouse Gardening and How to Build a Greenhouse by Philip Castagneto
English | October 19, 2020 | ISBN: N/A | ASIN: B08LGMR2KB | 336 pages | EPUB | 0.86 Mb
Develop your green thumb and learn how to build your diy greenhouse….
Are you looking to start your greenhouse gardening project but you don't know where to start from? Indeed, a greenhouse is such a priceless resource to count on and also a beautiful place to spend countless hours, but there are issues to weigh up before jumping into the building process and serious mistakes to avoid right off the bat.
"Greenhouse gardening for beginners"
is designed to get you everything you need to know to get on the right foot and also
detailed diy building plans (A-frame, Hoop House, Geodesic Dome)
which walk you through every step of the building process.
In this bundle you will learn:
# Book 1 – Greenhouse Gardening:
How to choose the best location for your greenhouse
How to design and structure your greenhouse according to your needs
A view of the essential tools you need to work in your garden
How to deal with greenhouse climates
How to deal with pruning and watering your fruit trees and how to manage pests and diseases control of your fruit
What vegetables to grow and how to set a vegetable garden
How to grow, maintain and harvest different herbs and the 10 most common mistakes to avoid
# Book 2 – How To Build a Greenhouse:
The difference between the different types of greenhouses and the best that suits you
The perfect orientation for your greenhouse in order for your plants to thrive
How to build a solid foundation for your greenhouse (2 building options methods)
The different ways to heat and cool your greenhouse and how to choose the best for you.
A72 square foot A-Frame greenhouse building project: pros and cons of A frame, tools, materials and the step-by-step building process
A 12 ft x 32 ft Hoop House greenhouse building project: pros and cons of Hoophouse, tools, materials and the step-by-step building process
A 8 foot 7 Geodesic dome greenhouse building project: pros and cons of Geodesic dome, tools, materials, and the step-by-step building process.
A glossary containing the technical terms and their definitions to increase your confidence and ease the building process.
And much more!!
Feel Free to contact me for book requests, informations or feedbacks.
Without You And Your Support We Can't Continue
Thanks For Buying Premium From My Links For Support