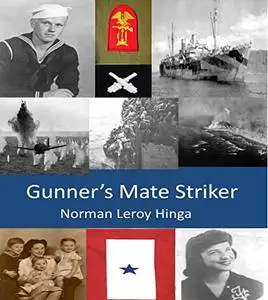 Gunner's Mate Striker by Norman Hinga
English | 2022 | ISBN: N/A | ASIN: B0B57RM2JZ | 212 pages | EPUB | 7.45 Mb
Gunners Mate Striker: A Sailor's Story -
This is a biographical account of S/2cl Edward C. Hinga; his life, war in the Pacific and family's experiences before, during and after WW 2. S/2cl Edward C. Hinga USNR found his destiny serving on APA 63 USS Bladen in the Pacific War in 1944-1945 participating in the invasions of Iwo Jima and Okinawa as a Gunners Mate Striker in deadly combat with the Japanese kamikaze suicide pilots.
The story is filled with the true life naval military experiences of a young American husband and father of three children that fulfilled his deeply held patriotic duty. An oral history has been passed down through his family for generations.
Some creative liberty has been taken to fill in the blanks, as many family members and contemporaries have passed on; but the primary narrative is based firmly in extensive and thorough research and family archives.
Seaman 2/cl Hinga's story starts in his teenage years growing up in the rural Midwest. The story describes his personal relationships, family and events leading to his decision to leave his wife and children to join the US Navy at the peak of the war raging in the Pacific.
We follow him through his enlistment experience to his Naval Construction Battalion (Seabees) boot camp at Camp Peary, VA. Upon completion of boot camp he is advised that all battalions were full and he would be assigned to a newly commissioned Amphibious Personnel Assault ship APA 63 USS Bladen. Seaman S/2cl Hinga then joins his officers and shipmates many of whom had only rudimentary training and were compelled to learn their duties as they sailed into the jaws of the massive Kamikaze suicide plane attacks at Iwo Jima and Okinawa.
Seaman S/2cl Hinga exhibited his natural mechanical aptitude and machine repair skills by repairing an anti-aircraft gun while still an ordinary seaman. His Chief Gunners Mate made him a Gunners Mate Striker joining a gun crew that would defend their ship and their very lives..
We witness his own battle to survive serious injuries and return home to his wife and family he so deeply loved.
This book contains names and images of locations, posters, war bond stamps, fellow veterans near Edward's hometown, his family, and shipmates.
Other images of historical interest are;
Family Photo Gallery
Naval boot camp/Seabee training post cards and photos
Appendix:<ul class="a-unordered-list a-vertical">
Roster of original members of the USS Bladen
Original handwritten entries by shipmates in an autograph book
Glossary of naval terms and expressions of 1943-45
Feel Free to contact me for book requests, informations or feedbacks.
Without You And Your Support We Can't Continue
Thanks For Buying Premium From My Links For Support