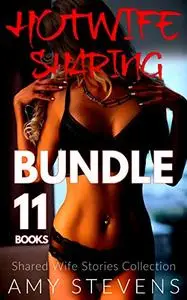 HOTWIFE SHARING BUNDLE: Shared Wife Stories Collection by Amy Stevens
English | 2021 | ISBN: N/A | ASIN: B08V5GHLQ5 | 184 pages | EPUB | 0.29 Mb
Would you ever let your wife go with another man and actively participate in menage-a-trois with a friend, or with a stranger? Or if you are a wife, would you ever accept to enjoy a game of three with your hubby and another man? A friend, a stranger, or even yours, or your husband's boss!
If you have a wife sharing fantasy, you don't want to miss these naughty stories containing kinky, explicit, and detailed descriptions, in just one bundle! You can put yourself in the protagonist's shoes when reading these adventures and the excitement is guaranteed!11 hot-wife sharing and cuckold titles - Including 'My Wife and My Friend In The Forest!' - for a total of 50.000 thousand smoking hot words!
Please continue reading below.

Note: Be aware that in some of these short stories - only a few - you'll come across of short scenes with MM and FF action; so please, don't read this book if you are looking for something else, or maybe a longer title, like a Romance or a Novella. If this is not your cup of tea, you'll certainly find what you want somewhere else. Thanks for stopping by anyway!