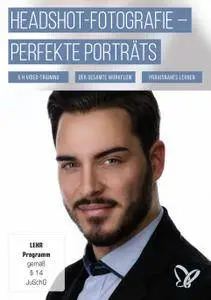 Headshot-Fotografie – der Weg zum perfekten Porträt
HDRips | MP4/AVC, ~1232 kb/s | 1920x1080 | Duration: 5 hours | German: AAC, 126 kb/s (2 ch) | 2.56 GB
Genre: Photo
Fokus aufs Ich! Headshots richten ihr Augenmerk noch mehr als Porträts auf den wahren Kern einer Persönlichkeit – weniger im Drumherum, neutraler Hintergrund und reduzierte Accessoires – dafür Charaktergesichter in nahbaren Momenten expliziten Ausdrucks und unmittelbarer Wirksamkeit. Markus Schänzle hat den ursprünglich in der amerikanischen Filmbranche verwurzelten Trend für sich entdeckt und leidenschaftlich verfeinert. Profitiere von seiner Expertise und lerne in diesem fünfstündigen Video-Training mit 26 Lektionen, wie du Headshots selbst realisierst. Dafür benötigst du weder teures Equipment noch professionelle Models, denn genau darum soll es gehen: das wahre Ich in jedem Menschen zu erkennen und fotografisch hervorzuheben. Einführende Worte zur Psychologie und Preisgestaltung, vorbereitende Kamera- und Lichtsetup-Maßnahmen, dabei sein während verschiedener Shootings und schließlich die komplette Retusche – dieses Tutorial lässt keine Fragen offen!
Kelby Training Collection
The Complete Guide To Composit...olor, & Composition (2015)
The 5 Day Deal Photography Bundle III
Digital Photoshop High-End Retouching Tutorial Videos & Services
Erik Almas - On Aspects of Image Making
Shooting Glamour Instructional
WedFilm Academy - Cinematic Wedding Film Tutorials
Everyday Photoshop: From Workflow to Smartflow
Nikon School - Fast, Fun & Easy Great Digital Pictures
Nikon School - Understanding Digital Photography
Photoshop Retouching Techniques: Skin
OneLight Photography Workshop
Photoshop: Content-Aware & Cloning
Karl Taylor - How To Use Your SLR Camera For Full Creative Control
Retouching & Photoshop Techniques
Matt Garrett - Photoshop Masterclass (with bonuses)
The 5 Smart Photoshop Tips and Tricks
Your First Day with Photoshop CC
Adventure Photography: Capturing In-Between Moments
Fashion Photography Exposed
Working with Models
Working with Hair and Makeup
Inside The Glamour Studio
Mastering Color with Ben Willmore
Children's Portrait Photography with Tamara Lackey
Glamour Photo Retouching Techniques
Advanced Lighting for Food Photography
Senior Photography: Break the Mold
Pets and People Photography
AWAI Photography - Turn Your Pictures Into Cash
Zombie Photo Manipulation Techniques in Photoshop
Lightroom 5 Crash Course
Lightroom 5 In Depth: Editing Your Photos
Lightroom 5 Killer Tips
Fundamentals of Photography II
10 Things Every Photoshop Designer Should Know
Lightroom CC Complete Training
Photoshop In-Depth: Mastering the Composition
Add a Splash to Your Photos Using Photoshop
Photoshop fur Fotografen - Schritt fur Schritt zu perfekten Fotos
Lightroom CC Killer Tips
Mastering Smart Collections in Lightroom CC
Using Lightroom Mobile in Lightroom CC
Studio Product Photography Essentials
DOP216: Lighting People, Products and Cars
DOP219 Lighting with Natural Light
DOP220: Making a Dramatic Difference
Adobe Lightroom CC: Photo Editing Masterclass
PHOTOGRAPHY MASTERCLASS: Learn the secrets of portrait editing
Photoshop For Beginners 101
Shooting the Purrfect Pet Portrait
Adobe Photoshop CC For Photographers
Learning Adobe Photoshop CC
How to Use Photos for Mac
Welcome to the best eLearning video (English, German, French, Spanish language) and many more:
LINK
Do not forget to check my blog! Updated regularly! Add in bookmarks my blog :)
PM me if Links not working!
No mirrors pls!