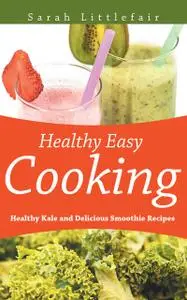 «Healthy Easy Cooking: Healthy Kale and Delicious Smoothie Recipes» by Sarah Littlefair
English | EPUB | 0.6 MB
Healthy Easy Cooking Healthy Kale and Delicious Smoothie Recipes The Healthy Easy Cooking book showcases easy healthy cooking recipes and offers breakfast through healthy dinner ideas. The book is in two sections, the first showing the Great Kale Recipes Diet and the second is the Smoothies Diet. Each of these diets offers healthy easy recipes to make easy meals to cook and proving that preparing quick healthy recipes is a cinch, which is perfect for today's busy lifestyle. The Great Kale Recipes section has easy to cook recipes that offer kale as the main ingredient. Kale is one of the "super foods" because of the benefits it contains. There are breakfast recipes, a sample: Easy Breakfast Casserole and Kale Quiche. Soup recipes, a sample: Kale and Avocado Gazpacho and Sesame Kale Soup. Salad recipes, which include Tuscan Kale Salad and Pickled Watermelon Radish with Kale Salad.