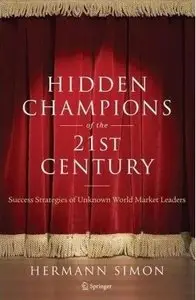 Hermann Simon, "Hidden Champions of the Twenty-First Century: The Success Strategies of Unknown World Market Leaders"
Springer | 2009 | ISBN: 0387981462 | 448 pages | PDF | 3,45 MB
What do Tetra aquarium supplies, Elector-Nite sensors, and Nissha touch panels have in common? They are typical "hidden champions," medium-sized, unknown companies (with annual revenues under $4 billion) that have quietly, under the radar, become world market leaders in their respective industries. Hermann Simon has been studying these hidden champions for over 20 years, and in this sequel to his worldwide bestseller, Hidden Champions, he explores the dramatic impact of globalization on these companies and their outstanding international success. Going deep inside more than a thousand hidden champions around the world, Simon reveals the common patterns, behaviors, and approaches that make these companies successful, and, in many cases, able to sustain world market leadership for generations, despite intense competition, financial pressures, and constantly evolving market dynamics. In the tradition of In Search of Excellence, Built to Last, and Good to Great, Simon identifies the factors in business operations, customer service and marketing, innovation, human resources management, organizational design, leadership, and strategy that separate these outstanding performers from the rest of the pack – and from the large corporations of the day. In the process, he provides a glimpse behind the curtains of many secretive companies who buck today's management fads, and succeed instead through such common-sense strategies as focusing on core capabilities, delivering real value to the customer, establishing long-term relationships, innovating continuously, rewarding employees for performance, decentralized operations, and developing an unparalleled global presence. Hidden champions teach us that good management means doing many small things better than the competition—quietly, with determination, commitment, and never-ending stamina. And in turbulent economic times, the hidden champions represent an antidote to the short-sighted and excessive practices that have brought many corporate giants crashing down. The hidden champions provide invaluable lessons for all stakeholders in the business community, from entrepreneurs to corporate managers, investors to employees, union organizers to regulators, advanced and emerging countries and may well serve as the new role models for sustainable economic growth in the globalized world of the future.
Not all books on AvaxHome appear on the homepage.
In order not to miss many of them follow
ebooks section
(see top of each page on AH)
and visit
my blog
too :)
NO MIRRORS according to the rules