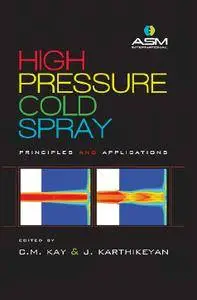 High Pressure Cold Spray: Principles and Applications by C.M. Kay, J. Karthikeyan
English | 2016 | ISBN: 1627080961 | 300 Pages | PDF | 19.0 MB
This new book is a highly practical and useful go-to resource that presents an in-depth look at the high pressure cold spray process and describes applications in various industries.
Cold spray continues to be the fastest developing spray technology over the last decade, and a significant number of scientists, engineers, and technologists are joining the cold spray community around the globe. The technology is relatively young and work is being simultaneously pursued in universities, research centers, and in many high tech industries. As this novel technology spreads quickly into many new application areas, there is a large need for an authoritative source of information. This new book addresses this need and will be indispensable to universities, libraries, and those involved in thermal spray. It presents baseline information on design and modeling, materials science of engineered coatings, and specific applications in various high tech industries, and is also a hands-on resource for cold spray operators.
Various applications of cold spray processes including protective coating production, development of performance enhancing layers, repair and refurbishing of parts, and NNS fabrication are elaborated in each industry with illustrative case studies by cold sprayers actively involved in the field. This book is both a comprehensive and technically advanced resource for anyone involved in cold spray technology, from coating design and development to performance of coatings and coated parts in both the laboratory and industrial environments.