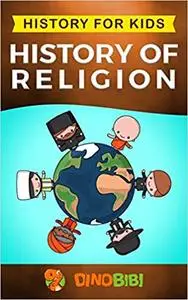 History for kids: History of Religion by Dinobibi Publishing
English | June 26, 2019 | ISBN: 1076369286 | 131 pages | EPUB | 3.40 Mb
Understanding other religions is a great way to bridge the gap between those different cultures and understand more about them. More often than not, we find that despite all the differences in practice and teaching, the majority of our diverse world's faiths work toward the same common goals at their very essence. As such, religion can be a common tongue and a way to demonstrate that we're not all that different.
Throughout the world, people of different cultures have come up with their own ideas and their own unique ways of interacting with a God or multiple gods. Once upon a time, the most common form of worship was polytheism which simply means a belief in multiple gods as opposed to just one. Civilizations such as the ancient Greeks, Egyptians, Romans, and others believed in hundreds or even thousands of gods. Every important aspect of life had some sort of deity that was in charge. Together, these many gods kept the world in working order and harmony.
There have been thousands upon thousands of religions, both big and small, throughout history. Let Dinobibi guide to four of those religions, which are still prevalent today and have left a great impact on the world. As we explore the history and teachings of Christianity, Islam, Buddhism, and Confucianism, we will visit many distinct cultures, all of which have given their own unique approach, not just to faith, but to living on this planet and being human.