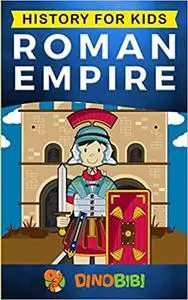 History for kids: Roman Empire by Dinobibi Publishing
English | June 17, 2019 | ISBN: 1074539389 | 112 pages | EPUB | 3.75 Mb
Through innovations in everything from military tactics to daily life to politics, ancient Rome undoubtedly belongs to that special club of civilizations that have left an irreversible mark on our world. Indeed, the legacy of Rome is so deeply engraved into the foundations of today's Western civilization that we can hardly go through a single week without experiencing that legacy in at least some minor way. The many ways in which Rome has influenced today's world become quite clear once we learn about its history.
That history spans over a millennium and tells an incredible story of a country that emerged from a single city to become one of the greatest empires the world has ever known. At its peak, the Roman Empire was home to as many as 70 million people, which constituted around a third of the world's population at that time. The Romans controlled most of the known world and essentially held the entire Mediterranean and far beyond, deep into Europe, Africa, and the Middle East.
Let Dinobibi take you on a fun journey to learn more about Roman Empire. The Roman tale will teach you not just about a thousand years of European history but also about the world today.