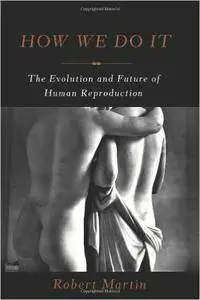 How We Do It: The Evolution and Future of Human Reproduction
Audio CDs in M4B / English: AAC, 64 kb/s (2 ch) | Duration: 11:04:20 | 2013 | ISBN-10: N/A | ASIN: B00D981KRW | 301 MB
Genre: Biology
Despite the widespread belief that natural is better when it comes to sex, pregnancy, and parenting, most of us have no idea what "natural" really means; the origins of our reproductive lives remain a mystery. Why are a quarter of a billion sperm cells needed to fertilize one egg? Are women really fertile for only a few days each month? How long should babies be breast-fed?
In How We Do It, primatologist Robert Martin draws on 40 years of research to locate the roots of everything from our sex cells to the way we care for newborns. He examines the procreative history of humans as well as that of our primate kin to reveal what's really natural when it comes to making and raising babies, and distinguish which behaviors we ought to continue - and which we should not. Although it's not realistic to raise our children like our ancestors did, Martin's investigation reveals surprising consequences of - and suggests ways to improve upon - the way we do things now. For instance, he explains why choosing a midwife rather than an obstetrician may have a greater impact than we think on our birthing experience, examines the advantages of breast-feeding for both mothers and babies, and suggests why babies may be ready for toilet training far earlier than is commonly practiced.
How We Do It offers much-needed context for our reproductive and child-rearing practices, and shows that once we understand our evolutionary past, we can consider what worked, what didn't, and what it all means for the future of our species.
Robert Martin (Author)
William Neenan (Narrator)
Welcome to the best eLearning video (English, German, French, Spanish language) and many more:
LINK
Do not forget to check my blog! Updated regularly!
No mirrors pls!