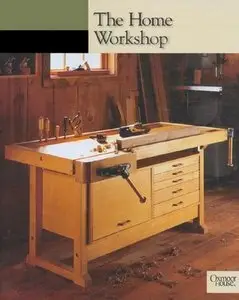 Time-Life Books, "The Home Workshop (Woodsmith: Custom Woodworking) "
Time Life Medical | 2000 | ISBN: 0783559518 | 0783559518 pages | PDF | 19,7 MB
Reader"s review:
This book is a compilation of articles and plans from previous issues of Woodsmith. If you go to their web site, you can download the individual plans, but you're much better off buying this book. The book gives you twelve plans, including the workbench and cabinet, router table, table saw and miter saw stations, and a pretty good lumber rack, among others. The plans are well laid out, you get materials lists and cutting diagrams, and they include enough text to guide you through an entire project, start to finish. What I particularly liked were two things: 1) They warned you in advance of what NOT to do and what to watch out for, and 2) they gave you additional plans for jigs to make the job faster, easier, and better. Each project shows multiple exploded views, with plenty of closeups of the tricky parts. Additionally, they ocassionally offer alternative ways to build things, usually faster, cheaper, and/or easier if your skills aren't quite up to snuff. A real bonus are the Shop Tips. These appear about every three or four pages and convey some little tidbit of information that usually applies directly to the project you're working on.
Only

ONE (1)

RS mirror, please