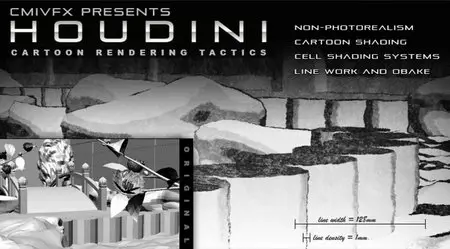 cmiVFX - Houdini Cartoon Effect
Duration 1h 35m | MP4 | aac, 16KHz, mono | h264, yuv420p, 1280x690, 30fps | 1.87 GB
Genre: eLearning | Project Files Included | English
cmiVFX has just released an incredible, brand new Houdini training video called "Houdini Cartoon Effect." The mentor for this video, Hirai Toyokazu, shows you how to make your work in Houdini look like a high-quality anime drawing and you'll also learn a variety of stylistic techniques including simple expressions, dynamic explosions and pencil effects.
In addition to all of this, Toyokazu's techniques can be used to improve the quality and efficiency of your work when you're not making cartoon-style animations as well. For more information about the content of this video, check out the chapter descriptions below, or watch our Vimeo teaser trailer.