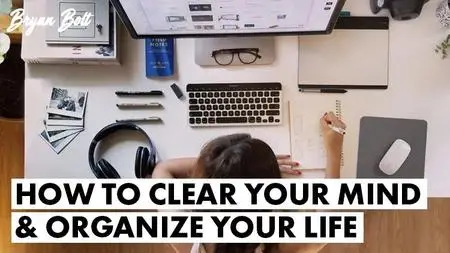 How to Clear Your Mind & Organize Your Life
Video: .mp4 (1920x1080, 30 fps(r)) | Audio: aac, 48000 Hz, 2ch | Size: 238 MB
Genre: eLearning Video | Duration: 35 mins | Language: English
In this class I'll teach you how to clear your mental clutter and organize your life. We are going to be doing 5 very powerful exercises to increase your productivity and focus.
If you struggle with staying focused, and you often find yourself overwhelmed by your work and all your to-do lists, and you easily get distracted at work and at home, then this class is for you.
Inside this course, we are going to learn how to free up our attention and mental energy, and how to clear out mental clutter.
We're also gonna do an exercise that's going to help us free up more emotional energy and get some completion and some closure in important areas of our life.
We are going to learn how to eliminate energy thieves, and at the end of this course, we're going to learn 2 of the most important exercises and tools we need to do, to drastically increase our focus and get the results we want in our lives.
We're going to identify some of the most valuable activities in your life and business that we need to focus on more proactively.
We're going to talk about prioritizing and particularly identifying and prioritizing the very highest value activities, the activities that give us the most bang for the buck.
At the end of this course you'll have done 5 very powerful exercises that will help you clear your mental clutter and organize your life in the most efficient and powerful way possible, so that after you take this class, after our 5 days together, you'll know where you are and where you need to be heading.

Distractions are growing exponentially and every day more and more people are looking for ways to free up their attention and focus and improving their productivity.
Imagine this class as being glasses that once you put them on, you get a clear picture of what the most important areas of your life are and what you need to focus on and organize right now, and what you maybe need to give up, so that you really can make this life count.
We need to get organized and serious if we want to make the best of this life we have.
Home page -
https://www.skillshare.com/classes/How-to-Clear-Your-Mind-Organize-Your-Life/26225889