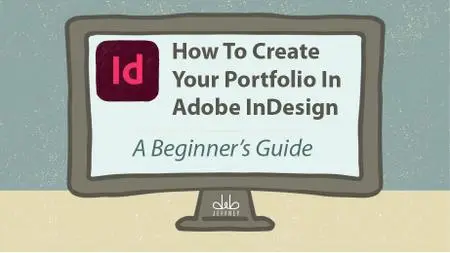 How to Create Your Portfolio in Adobe InDesign: A Beginner's Guide
Duration: 2h 3m | .MP4 1280x720, 30 fps(r) | AAC, 48000 Hz, 2ch | 959 MB
Genre: eLearning | Language: English
Welcome to HOW TO CREATE YOUR PORTFOLIO IN Adobe InDesign: A beginner's guide
This class is about removing the fear and anxiety about using Adobe InDesign, teaching you how to use the program efficiently, and creating a portfolio that is easy to make, update, and share!
Hi. I'm Deb Jeffrey. I'm an artist, planner creator, and teacher. I have used Adobe products for the last 19 years, to create art, graphics and publications.
I created this class because one thing that I hear regularly from my artist friends, is that you have no portfolio because you either became frustrated with trying to create one in Adobe Photoshop or Illustrator, OR because you just don't know HOW to create one.
I feel your pain, because although Adobe Illustrator and Photoshop are wonderful program for creating artwork and graphics, they are not the best tools for creating multiple page documents. In fact, using either of these programs to create a multiple page document is kind of like trying to hammer a nail into the wall with a shoe. It's possible, but not the most efficient.
Adobe InDesign WAS designed specifically to create multiple page documents, like your portfolio, and offers many time-saving tools and features that I would like to share with you to FINALLY create your portfolio.
This class is for beginners, and you will learn:
How to navigate the InDesign workspace
How to set up the preferences and workspace for success and efficiency, right from the start
InDesign tools that are essential for creating your portfolio
A secret tool, that has no menu option or tool icon, BUT it is essential for making the task of creating your portfolio a breeze!
How to easily update the portfolio that we create in class, with new typography, color scheme and most importantly, new artwork and content
How to save your portfolio for sharing
Techniques you can apply to any multiple page document!
More Info